Thank you to all who participated in our recent neighborhood treasure hunt Where in Wallingford. The deadline to return entries was September 15. We are tallying the results and will announce winners soon!
Seattle's Wallingford is a neighborhood with a rich, interesting, and diverse history. Today, it has matured into a wonderful neighborhood with valued residential and commercial presences.
Through the activities of the Historic Wallingford organization, we wish to share our community's history with residents of Seattle and beyond. The value of knowing our historic past and stories about those who shared our neighborhood in the past, will enhance the lives of people today and tomorrow. Elementary, middle, and high school students will benefit from a sense of identity through the identification of a shared past.
A principal purpose of Historic Wallingford is to raise awareness of the significant cultural values of Wallingford. By increasing the awareness of and interest in the historic character of Wallingford, our intention is to serve all people of Seattle, visitors to Wallingford, visitors to our website, and to those who live and work in Wallingford. We will bring forward the cultural value of the stories of the generations of people, historic homes, past and present commercial buildings, and institutions of Wallingford.
We want to create some excitement about this wonderful place called Wallingford!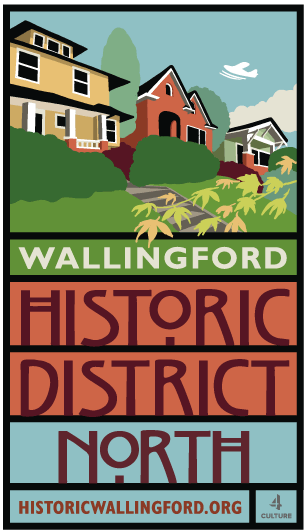 Historic Wallingford has completed its major initiative of 2019 – the Wallingford Historic District Feasibility Study. We've posted the study report and the public meeting presentation and sign boards here. You can learn the results of the study and what future National Reigister of Historic Places designations for Wallingford could involve. For 2020 we have embarked on the first phase of applying for designation of the Wallingford Historic District with the North area, between N/NE 46th and N/NE 50th. We are currently recruiting volunteers to help with the research needed to complete the application. You can read more about that here.
Annual memberships are available for purchase! Visit our News and Events pages for the latest information on all things Historic Wallingford. We're proud to have 4Culture as a generous sponsor of our events and activities.
Historic Wallingford is organized exclusively for charitable, educational and scientific purposes. The purpose of the organization is to promote knowledge and appreciation of the human, environmental and architectural heritage of the Wallingford neighborhood in Seattle through education, publications, assistance to property owners, collection of oral histories, written and photographic ephemera, objects, landmarks, landscapes and structures. Historic Wallingford has been recognized by the US IRS as a 501c3 organization, to which gifts are tax deductible.